BLUEBERRY PLANTS---
Blueberry plants are back
Plant today and get berries next Spring.
I get Blueberry plants from a Mississippi Blueberry farm. These plants are 3 years old and about 3 feet tall. These varieties are what they grow in the fields for commercial sales. Blueberry plants can handle a lot of sun.
I have 2 varieties for sale. Premier ripens in June and Brighwell ripens in July.
Keep in mind you need two different varieties of Blueberry plants to make Blueberries.
Blueberry can be planted 4 feet apart for a hedge, 6 feet apart in a garden, 10 feet apart free standing. Maxium distance for 2 plants is line of sight.
Blueberries grow very will if planted in Organic soil.
BLUE TARA FARM http://www.pickaberry.com
More Blueberry info http://msucares.com/pubs/infosheets/is1448.pdf
Ray 504-931-9768 2032 Pasadena Ave. Metairie, La.
$10 each----3 or 4 more plants, $9 each------5 or more, $8 each
PLANTING TIPS
Plant Blueberries in Organic Garden Soil or Organic Potting Mix.
Plant Bluberries 3 inches below ground level, any soil on the top 3 inches.
Mulch with 6 inches of grass clippings or pine needles.
Fertilize with 1 Tablespoon of 13-13-13 in February, April, June, and August.
To freeze blueberries, do not wash them when picked. Simply pour them into a zip bag and place in freezer. Wash when you use them.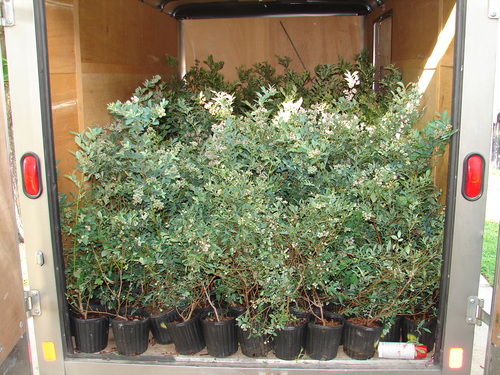 The farm