Citrus tree facts and info
The best time to plant a fruit tree was 20 years ago. The second best time is today.
Planting Citrus Trees
Full sun is best. Trees should be 15 feet from any structure. Citrus trees should be pruned yearly around Christmas time or right after the last freeze.
Some people seem to be happy with a 20 to 30 foot tree. Trees this tall are a huge hassle to harvest. Ideal height is to reach the fruit you harvest off of a 6 foot ladder.
Trees should be free of limbs 2 to 3 feet off the ground. New trees have a tendency to make low shoots or branches. Cut these off, particularly any branches growing from the root stock.
Trees should have only one trunk.
Fertizler
For backyard production, 8-8-8 or 11-11-11or 13-13-13 will work OK.
Citrus trees require one pound of fertilizer for every year the tree has been in the ground. Spread the fertilizer evenly under the drip line in a pattern that is 18 inches wide. Fertilize in Febuary and July and never past September 1.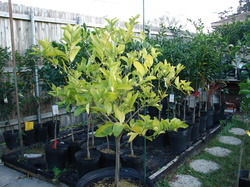 Sun and shade
Citrus trees should be planted in full sun. However, I have seen a lot of citrus planted on the shady side of a fence (North side) and they seem to do just fine. However, full sun is strongly recommended.
The tree in the above picture was in a French Quarter courtyard with not enought sun for two years. It is very light in color and produced 2 or 3 limes.This tree will repair itself in full sun but it will take at a year or longer.
Growing zones
Most all of the gulf coast is zone 9 and any variety of citrus tree will grow fine in this area. Citrus trees can be grown in other areas, they should be planted in 25 gallon containers or bigger. They need to be moved to a protected location during freezing weather. Having a cart available for ease of mobility is recommended.
11 year old Persian Lime Tree