Citrus tree facts and info
Care and feeding
Planting Citrus Trees
Full sun is best. Trees should be 15 feet from any structure. Citrus trees should be pruned yearly around Christmas time.
Some people seem to be happy with a 20 to 30 foot tree. Trees this tall are a huge hassle to harvest. Ideal height is to reach the fruit you harvest off of a 6 foot ladder.
Trees should be free of limbs 2 to 3 feet off the ground. New trees have a tendency to make low shoots or branches. Cut these off, particularly any branches growing from the root stock.
Trees should have only one trunk.
Citrus can be pruned year around however try not to cut off any blossoms. I shape my tree in a ball every December.
Multiple Citrus Trees
If you have a small back yard do not let this deter you from growing trees. You can plant up to 4 different trees in the same container. Plant the trees as close to each other as you can in a diamond pattern, they will grow just fine. The trees pictured in the container are Meyer Lemon, Key Lime, Satsuma and Navel Orange which create a nice fruit basket to harvest from during citrus season. The trees shown are about 3 1/2 years old.
If you never intend to plant your citrus tree in the ground use a container as a large as possible to achieve maximum harvest production. The size of the container will determine the size of the tree.
I have 4 citrus trees, pictured below, almost 4 years old, growing in a 50 (fifty) gallon pot. They are Key Lime, Valencia Orange, Owari Satsuma and Improved Meyers Lemon. It is time to plant these 4 trees in the ground so they can come up to size. $325 delivered, for 4 producing trees is a very good price. 4 of my trees in 10 gallon pots ($85 each) would cost you $340.00. I am not going to grow this setup anymore, they take too long to sell. I will deliver the trees to South Louisiana or South Mississippi.. This will be the third year these trees will make fruit. This is a great setup for a small backyard that only has space for one tree. Ray 504-931-9768


This setup has Key Limes and Valencia fruit on it now. The Key lime will make 1000's of blossoms and hundreds of fruit all year long including in the Winter. The Valencia has a dozen oranges on it and new blossoms are coming out now. Valencia is a unique orange in that the tree will have two crops of fruit on it, this years citrus and next years citrus. It will always have oranges on the tree. The Meyers Lemon has blossoms and will also make fruit all year long including in the Winter. The Satsuma will be ripe in November. These trees have to be planted in the ground of moved into a larger pot. 100 gallon or bigger.
Fertizler
For backyard production, 8-8-8 or 11-11-11or 13-13-13 will work OK.
Citrus trees require one pound of fertilizer for every year the tree has been in the ground. Spread the fertilizer evenly under the drip line in a pattern that is 18 inches wide. Fertilize in Febuary and July and never past August.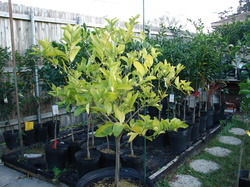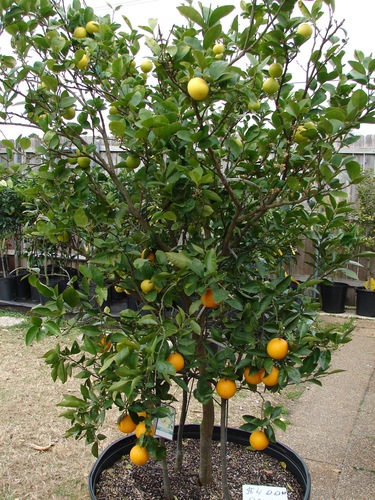 Insect control
Sun and shade
Citrus trees should be planted in full sun. However, I have seen a lot of citrus planted on the shady side of a fence (North side) and they seem to do just fine. However, full sun is strongly recommended.
The tree in the above picture was in a French Quarter courtyard with not enought sun for two years. It is very light in color and produced 2 or 3 limes.This tree will repair itself in full sun but it will take at a year or longer.
Growing zones
Most all of the gulf coast is zone 9 and any variety of citrus tree will grow fine in this area. Citrus trees can be grown in other areas, they should be planted in 25 gallon containers or bigger. They need to be moved to a protected location during freezing weather. Having a cart available for ease of mobility is recommended.
11 year old Persian Lime Tree