Citrustreesnola.com
email address has changed. Use citrustrees1@att.net
Sumo Oranges, Blood Oranges and Kumquats are now available and I have 4 varieties of Satsumas available now including Arctic Frost and Miho.
New variety of satsumas for Louisiana. This tree was designated a Texas Superstar in 2010. Cold tolerant to 14 degrees.

I sell Arctic Frost, Orange Frost and Bumper Satsumas. All very cold hardy. 14 degrees.
Miho Satsuma info---- http://www.westernfarmpress.com/orchard- crops/satsuma-miho-mandarins-tolerate-14-f
I will have 3 outstanding satsuma varieties available. Arctic frost, Orange frost, both very ,very cold hardy and Bumper which makes a bumper crop.
-All my 5 gallon trees are 1 year old at this time.
Because of the ongoing bug infestation of Floria Citrus trees, my grower has taken additional steps to insure the high quality of all his Citrus Trees.
All trees are now certified to be Asian Citrus Psyllid insect free!! We are trying to keep the citrus insects under control here in Louisiana.
I keep a large variety of citrus trees at my location in the New Orleans area.
Cuties Mandarin

Lemon--Meyer, Ponderosa, Lisbon, Pink Lemons


Lime -- Persian, Key, Kieffer

Orange -- Navel, Louisiana Sweet, Calamondin, Blood, and Red Navel

Satsuma--Owari, Brown Select, and MIHO Satsumas. MIHO can grown anywhere in the state of Louisiana up to Southern Arkansas. 14 degree tree.


Grapefruit--Ruby Red, Rio Red

Chandler Pummelo

Kumquat--Meiwa (sweet), Nagami (tart)

Cuties
All varieties are available in 5 gallon containers for $50.00. These trees are 1 to 1 1/2 years old and will produce some fruit next season. Keep in mind that first and second year citrus fruit can be poor quality and should be cut off.
For more info contact Ray, Cell 504-931-9768
I am located in Metairie, Louisiana
Ray Musacchia
2032 Pasadena Ave. Metairie, La. 70001
e-mail: citrustrees1@att.net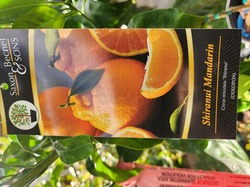 Sumo trees available.1 year old. $50 each
Calamondin info, aka Miniature Orange Tree
A Calamondin is a cross between a kumquat and orange or kumquat and mandarin. It makes a very nice houseplant. The plant height can be controlled by the pot size and pruning. It will grow larger in the ground. Cold resistant 25 degrees.
It is quite showy and fragrant when the fruit and blossoms kick in. Blooms and produces fruit all year long. The fruit is orange/red about golf ball size. It taste like a lime with a hint of mandarin. The rind is edible and sweet to taste. The fruit is juicy with high acidity. The fruit makes an excellent marmalade. It also stops insect bite itches. The fruit can be frozen whole and used as ice cubes in summer drinks.
< /span>
The plant is rather cylindrical and erect with dense branches and will grow in a variety of soils.
Calamondin Info http://www.hort.purdue.edu/newcrop/mor ton/calamondin.html
info
Caring for Indoor Citrus
Here is a brief guide for keeping your indoor citrus plants happy and healthy:
Location: Make sure your plants receive five to six hours of sunlight. Set your tree in a southern exposure, if possible, or supplement the light by using 40 watt fluorescent shop lights above the plants.

Fertilizer: Use an acidic fertilizer during the plant's active growing season in late winter, June and August. Use a high-nitrogen-low phosphorus food (20-10- 10) or one specifically for citrus every time you water.

Water: Your pot must have good drainage as you water every few days. Mist the leaves and give your tree a shower occasionally.

Humidity: Homes in winter have drier air, so try a tray of pebbles under the pot.
Questions? Ray, Cell 504-931-9768 or citrustrees1@att.net< /span>
Order Information
All my trees are 3 to 5 feet tall.
I'm located at 2032 Pasadena Avenue, Metairie, Louisiana.
Ray, Cell, 504-931 -9768












Additional Information
For general information regarding home citrus production click on the following informative sites. Topics include;
Fertilizing

Insect Control

Pruning

Fruiting Schedule

Planting
Citrus information is available from the LSU website.
Other Citrus info
http://aggie- horticulture.tamu.edu/citrus/